Farming & Ranching Has Plenty of Risk. Minimize That Risk with Proper Insurance Coverage.
FARM POLICIES
We work with four different companies to insure your equipment, structures and farmsteads. We have the experience to help you customize your coverage to fit your operation. Call or stop in and we'll be ready to go to work for you.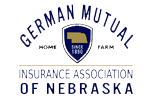 CROP & LIVESTOCK
We are agents for Rain and Hail LLC, offering an array of products designed to protect your investment in your crops, livestock and pastures.