Matt Weber
Matt splits his time between Tecumseh Insurance Center and Tecumseh Federal Bank where he also serves as Vice President with a variety of duties. He handles the majority of the crop and livestock insurance and assists Linda and Sam with other lines of insurance when they need an extra hand.
Matt is the farm kid who realized he needed to get a good education and a job in town to support his livestock habits and stay closely connected to agriculture. With the agriculture background and training through undergraduate and graduate programs at UNL, he understands the difficult decisions and economics associated with farming today and is prepared to help find the product with the best value.
When not at the desk, he can be found trying to raise a young, active family, caring for livestock, watching Husker athletics, or fussing over property improvements and repairs. He also enjoys self-deprecating humor and a full head of hair.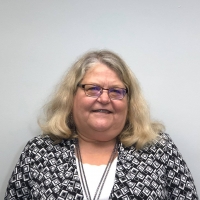 Linda Kuhlmann
Linda has worked at Tecumseh Insurance Center since July of 1995. She assists customers who need coverage for their farm, home, auto, commercial business, flood insurance, crop insurance, and bond insurance.
Linda has a strong connection to family, friends, and community and loves being around them. Linda is a lifelong member of the community and a Johnson-Brock High School graduate. She and her husband, Kevin, have two grown sons, Kaleb and Kade. She is currently a member of St. John's (Stone) church and is an officer with the Johnson American Legion Auxiliary. Linda has also spent many years involved with Johnson County 4H. From being a member as a kid, to being a leader for 7 years and serving many years on the 4H council, 4H will always hold a special place in her heart. In her spare time she loves to bake, have a cocktail with friends, and hangout with her Zumba (aka "therapy") group.
Linda enjoys people and it shows with her interaction with customers. Stop by and visit with her soon!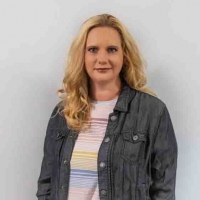 Lynn Haughton
Lynn joined Tecumseh Insurance Center in 2020. Outside of work, Lynn is dedicated to her family and a successful entrepreneur. Her children have been involved in every sport, where she regularly volunteers to take photos for parents, spectators, the school yearbook, and the local newspaper. Lynn is a member of St. John's Lutheran Church in Tecumseh.
Lynn has four boys, Ryly, Brady, Hunter, and Jackson. Her husband is a teacher and the head football coach here at Johnson County Central. The Haughton's have always thought of Tecumseh as home, so when they had the opportunity to move back, they jumped at the chance. Lynn has taught her boys to always be kind to others and always work hard at everything they do. She applies these lessons to every customer she comes in contact with. Lynn takes pride in knowing she did her best in helping others.
"If I do not know the answer, I will do the work to find out the answer, good or bad."